Instructions for the use of spools at client premises
Security advices
Handling risks:
The beginning and end of the wire might produce injuries.
Fall of spools might cause hits.
Unsuitable warehousing might cause collapses.
Piling spools up is unstable and can produce hits.
Measures to be taken:
It is recommended the use of gloves in spools handling
It is recommended the use of the security shoes.
It is recommended not to pile spools up out of its original packaging.
These instructions must be available at each area /place where the spools are handled.
Independently of the advices included in these instructions, local security rules will be applicable.
The manufacturer is not responsible for damages as consequence of an incorrect or unsuitable use of the delivered material.
Storage Recommendations
It is recommended to use the material not later than 6 months of its reception, as it might oxidize.
Keep the material in areas protected against the elements, maintaining the goods in its original packaging.
Avoid the wire contamination with foreign substances.
Recommendations of using
Letting go the wire (freely) in the feeding process of the machine could produce spring effect, and the spires could come out from their accommodate. We recommend to hold with the hands the superficial spires to avoid this effect before hooking the wire to the metallizing machine.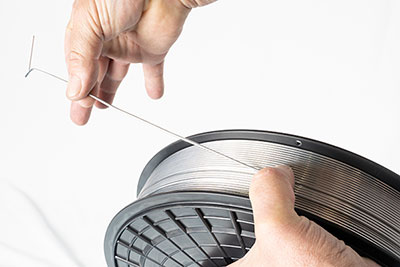 Avoid wire crosses in the feeding process of the machine because they will cause serious problems in the correct working.
Avoid the fall of spools in the process of handling them, because it will cause the breakage of the spools. Take special care with handling of the spools type IRU 320.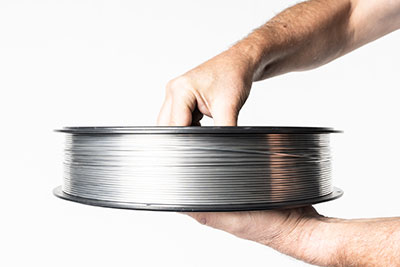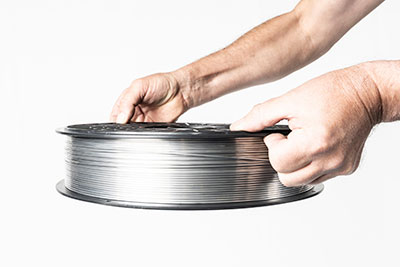 Environmental information
Plastic reels can be reused and recycled; packagings materials can be recycled.
The end user is responsible of managing the residues in a suitable way, according to the European Directive 94/62/CE or local rules.